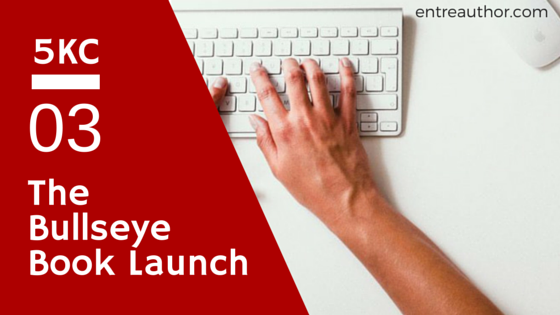 One of the most useful books about marketing that I've read in the last couple of years is called Traction by Justin Mares and Gabriel Weinberg.
It is written for startups, but the framework they use for evaluating marketing channels can easily be applied to books. In many ways, launching a book is a lot like launching a startup.
In Traction, Mares and Weinberg introduce a framework for evaluating marketing channels.
The premise is that the framework will help remove your personal biases about what will work and what won't work by following a step-by-step system for selecting and testing the best marketing strategies.
The Bullseye Framework
The Bullseye Framework has five steps. They are:
Brainstorm
Rank
Prioritize
Test
Focus
I think every author can use this framework to determine the best marketing strategies for their books. Out of all the marketing tactics you could use, a few of them will be extra successful. Using the Bullseye Framework helps you discover which ones are the best. In other words, you are tying to find your bullseye marketing channels.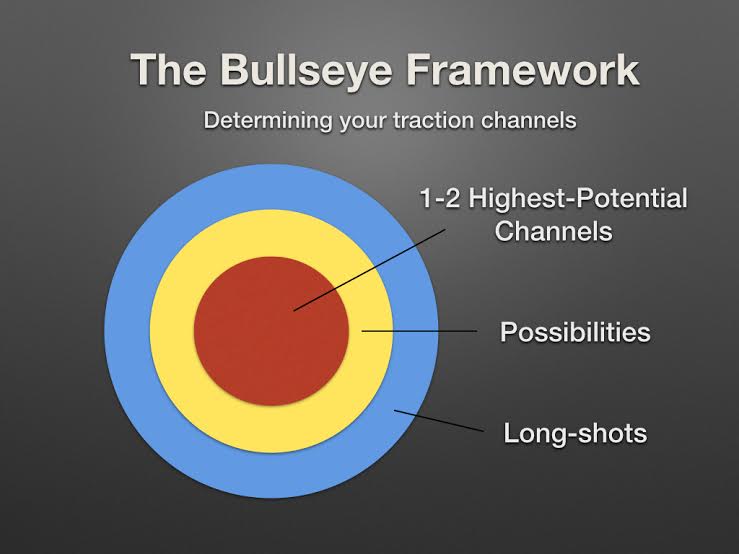 Most authors I talk to get seriously overwhelmed by all the possible things they can do to launch their books. As a result, they either do too much or they focus their efforts on channels and strategies that don't actually make an impact.
That's why I'm using Traction to come up create a bullseye book launch.
In this video update in my 5,000 Copies Book Launch series, I show how I'm using the Bullseye Framework to prepare for my next book launch. I am organizing the entire launch on a Trello board.
Watch the video to see how I'm prioritizing the ideas or read below for a full explanation of how I'm developing my Bullseye Book Launch.
Want to get started with your own Trello board to organize your next book launch? I'll send you a copy of a public version that you can use. Click here:
Get the Book Launch Template!
The Bullseye Book Launch
You can read more about each step in the Bullseye Framework in the Traction book. Here are the questions and steps I will be using at each step along the way.
1. Brainstorm
Brainstorm all the possible book marketing ideas for the launch. In addition to a straight ideation/brainstorming session, I will be doing some research.
Specifically, I am going to:
Watch what other authors are doing as new books release in the next few months
Reach out to authors I know and meet to see what is working best for them
Read book launch blog posts. (Access a collection of the best book launch blog posts here.)
Read course launch blog posts and podcasts (i.e. Bryan Harris, Joseph Michael)
Listen to publishing podcasts and record new ideas as I hear them
Brainstorm your own ideas no matter how crazy they might seem
 The key is not to discredit any idea yet. One of the key points that Mares and Weinberg make is to remove your personal biases. You will be bias to a certain marketing channel. 
2. Rank
Once you have a good list of ideas, start to prioritize the ideas and channels that are most likely going to have the biggest impact.
The authors suggest three columns (in order to make a bullseye):
A: Inner Circle (Most Promising)
B: Potential (Possible to Work)
C: Long-shot
 In order to evaluate each one of these ideas and categorize them into one of these three areas, I am going to use the Who CARES? Strategy.
Essentially, I am going to ask how does each one of these ideas stack up against the Who CARES? Strategy:
Will it bring clarity about the book to potential readers?
Will it bring attention to the book?
Will it lead to referrals about the book?
Will it offer the opportunity for exclusive access?
Will it provide samples or behind the scenes look at the content of the book?
3. Prioritize
Mares and Weinberg suggest choosing three channels as a starting point. I love the idea of focusing your efforts on what you expect to work best.
We are essentially going to apply the Pareto Principle otherwise known as the 80/20 Rule. What are the top 20% of book launch tactics that will lead to 80% of the preorders and sales?
Tools: 80/20 Analysis Template
4. Test
How can you test a book launch? You only have one shot right?
Maybe not. 
First, I plan to test these channels by launching a course using the book's content a few months before the launch. Next, I'll test out the channels to encourage preorders. The ones that bring the most preorders will help determine the long term marketing plan I have for the book once it is released.
5. Focus
I only have so much time in the mornings to prepare for the launch. I truly do need to focus on what works best. Over the course of the next few months and weeks I'll share the progress I'm making in focusing on the tactics I expect to work best in my "Inner Circle."
This series is focused on launching a book, but ultimately book marketing doesn't end at launch. As authors, we need to continue to get our books into the hands of new readers and using the Bullseye Book Launch approach will help determine what we should be doing throughout the lifespan of the book.
Create Your Own Bullseye Book Launch Plan
As you can see in the video for this post, I am using Trello to organize my next book launch. I honestly can't think of a better tool to organize and act upon ideas than Trello. In the past I used spreadsheets and Evernote notes, but if you really want to do a Bullseye Book Launch, I think Trello is the way to go.
Would you like to copy and use my Trello book launch template?
I created a public version of it that you can copy for yourself.
Check it out: