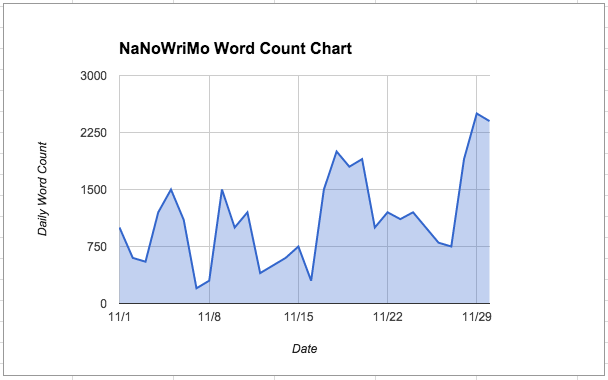 So you are participating in National Novel Writing Month (NaNoWriMo) this year? Get ready to finally finish that novel you've always wanted to write!
Staying motivated the entire month can be a real challenge. To win at NaNoWriMo, you have to write every day.
There's a small trick to staying motivated each day and it involves a very simple tool: the NaNoWriMo Word Count Chart.     At the end of each day, write down the number of word you have written for the day. Write them in the NaNoWriMo Word Count Chart.
Keeping track of the number of words you write each day can be incredibly motivating. It sounds strange, but the act of adding your day's words into that chart gives you a good feeling inside. Over the course of a few days or weeks during November, you start to see the numbers add up. Your chart increases and you feel a sense of accomplishment.
As you continue a streak of writing days, you will find yourself motivated by the chart. You won't want to put a dreaded zero into the day.
Don't be one of those authors who writes have a novel during NaNoWriMo. Get yourself a word count tracker and motivate yourself to fill out that chart every day.
Here is a very simple word count chart that I use for writing my books. Enter your email address and I'll send you a blank template to use during NaNoWriMo:
Download the NaNoWriMo Word Count Chart