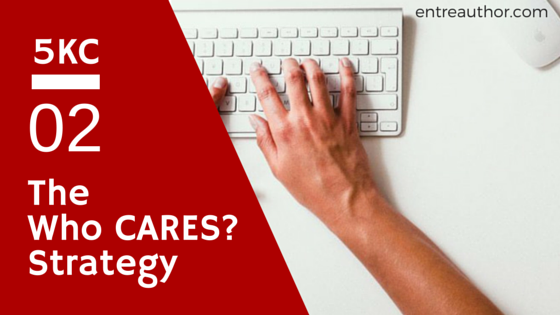 The only way to achieve any level of success in launching your book is to convince someone to care.
The more people care about you, your book, and the problem they need to solve or the experience they wish to have, the more likely they are to buy and share your book with others.
So, how do you get someone to care?
We all like acronyms, right? Here's one I find to be helpful in thinking about book marketing as an author and I hope it will help you too. I call it the Who CARES? Strategy.
The Who CARES? Strategy
Why use an acronym to guide yourself through the next book launch?
Because book launches are OVERWHELMING!
Even if you find that your book launch is successful and your book takes off, you will still run into incredible amounts of stress. Listen to this Good Life Project interview with Susan Cain about her book Quiet. She was incredibly overwhelmed by the amount of work that went into her launch.
Every time I have launched a book or a product, I have been overwhelmed by the number of things I could and should do. There are just so many options and it is hard to prioritize where to put the most time and energy.
When things get overwhelming, it is easy to lose sight of what is important and who you are trying to serve.
That is why it is so important when taking on any overwhelming endeavor, that you have a simple, easy to remember formula to help you make decisions.
(Note: Download two free resources to help you implement the Who CARES? Strategy in your next book launch by clicking here: Get the Who CARES? Strategy Resources )
WHO
First, who?
Who is your book for?
Who is the audience?
Who do you expect to be the early adopters?
You would be amazed by the number of authors who say, "my book is for everybody!" Don't do that. Please, erase this kind of thinking from your head completely. If it helps, don't think of an audience in general terms.
Think of a handful of people who you know that will be incredibly excited about your book. If you don't know any of these kinds of people personally, imagine what they might be like. Then, ask yourself what these people have in common.
This is your WHO.
This is the audience you are going to direct most of your book marketing efforts as your launch approaches. Don't lose sight of these specific groups of people.
Once you have a group or groups in mind, do some research. Find out:
What websites do they visit?
What conferences and events do they attend?
What are their favorite books and authors?
Who are their favorite thought leaders (authors, bloggers, show hosts, speakers, etc.)?
What shows do they watch or listen to?
What are some other publications that they read on a regular basis?
Answering these questions will come in handy later as you craft your book launch plan. Now, let's look closely at the reasons why your audience is going to care about your book.
CARES
I did some brainstorming about all the possible tactics that people try in book launches and organized them around five principles: CARES.
These are broad terms that summarize the goals of the most popular and effective tactics that authors use to get their audiences to care about their new books.
C – Clarity
A – Attention
R – Referrals
E – Exclusivity
S – Samples
Clarity
What is the book about? Why should anyone read it? What headline should I use on my landing page? What message should I share with potential readers? What parts of the book should I talk about during interviews. Being crystal clear about the message and purpose of the book is the foundation upon which every other strategy is set.
Attention
We want to get the attention of the people who will read our book. How will we find them? Where do they hang out? What do they listen to? What can I do to get their attention?
Referrals
Bottom line: Successful books get shared. That's the secret to the success of every book I know. Whether it sells well at the launch or builds a loyal following over time, a book is a success when it gets read and shared. What can I do to encourage people to refer the book to a friend? How can I equip people to talk about my book with others?
Exclusivity
How can I give my dedicated readers and fans an exclusive reward for being so great? How can I offer exclusive access to me and my work that a small group of people will experience, enjoy, and become a fan for life? How can I encourage this group to talk about the book with others?
Samples
In addition to sample chapters and search inside the book (Amazon), how can I give people a taste for what is in my book? How can I give people the opportunity to try out the book to see if they life it? How can I convert these samplers into buyers?
Get the Who CARES? Strategy Resources
Applying the Who CARES? Strategy
How will this work?
In two ways:
First, it will help prioritize what tactics I should try. If a tactic doesn't help a potential reader care, then I will focus my effort elsewhere.
When it comes launch time, every author has to decide where to put the most time and effort.
Should I agree to an interview on XYZ Show? Will it get attention for me and my book? Yes? Ok, go!
Second, and most importantly, it will improve the tactics I do try.
I see a lot of authors copying book launch tactics from people they know or from authors they like. When they finish a campaign, they find themselves wondering why they didn't find success. They did everything the same way as the other author they know, right?
Most of the time, when a campaign fails it is because it wasn't built on a firm foundation. The tactics might be identical, but something was missing. I think CARES will solve that problem.
Let's look at a couple of examples.
Example 1: Facebook Ads
Should I buy Facebook ads?
That depends.
Am I clear on the audience (clarity)?
Will I be able to get the attention of that audience (attention)?
Will I give away a sample chapter (samples)?
If the answer to all of those questions is "Yes," then let's buy some ads!
Example 2: Giveaways
I see a lot of authors running free giveaways for their books these days.
Should I host a giveaway for my books during launch week?
Maybe, but just running a giveaway without any extra plan simply won't impact sales of your book. It is not going to get you more readers unless . . .
C – Am I clear on who the book is for? If not, who will I get to enter the giveaway?
A – Will it gain attention? Maybe, but I'll need to spend a lot of time sharing the giveaway on my blog, to my email list, on social media, and to a number of other people who might be interested.
R – Will people share the giveaway? Yes, if I use a widget like Rafflecopter.
E – Will this giveaway reward the biggest fans with feelings of exclusivity? Of being on the inside? Well, no. If I give my book away to everyone, then the free copies I give to people who are the closest to me or the biggest fans won't feel special at all.
E – Will this giveaway offer anything exclusive–something my readers can't get anywhere else? This could be signed copies of the book or an entire gift basket of goodies that relate back to the concept for the book (clarity).
S – Will I give away free samples? Yes, but only to the winners. How can I make sure everyone who enters gets to experience a part of the book themselves?
See what I mean? You can't make plans for any book marketing campaign without first thinking about the overall strategy and what actually turns interested readers into buyers.
5KC02: Getting Started with the Who CARES? Strategy
Here is a quick look at how I've started organizing my book launch using the Who CARES? Strategy:
If you would like to download the Who Worksheet and the list of CARES tactics, click here.